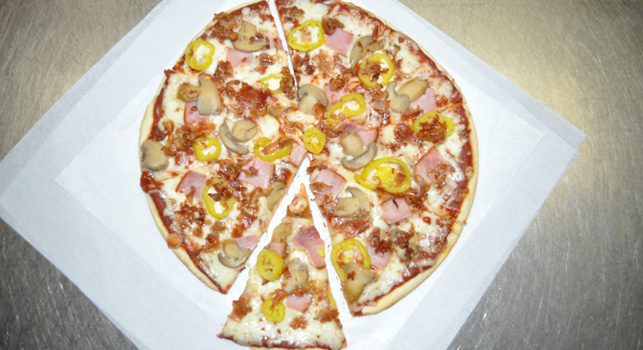 This is where sauerkraut on pizza began!
Pizza Haus offers two distinct options for your pizza appetite: The traditional round crust pizza and the very thick, fluffy crust square pizza we call the Four Square.
ROUND CRUST
Our savory tomato-based pizza sauce with a generous portion of mozzarella cheese on top of our original crust. Create your own unique combination of pizza using any or all of our 11 mouth-watering toppings.
Available in:
| | | |
| --- | --- | --- |
| 8″ | cut into 6 wedges | Serves One Adult |
| 12″ | cut into 8 wedges | Serves 2-3 Adults |
| 15″ | cut into 16 squares | Serves 3-5 Adults |
ORIGINAL TOPPINGS
Anchovies, Bacon, Banana Peppers, Black Olives, Green Olives, Green Peppers, Ham, Jalapeno Peppers, Mushrooms, Onions, Pepperoni, Pineapple, Sauerkraut, Sausage.
Extra cheese and extra sauce also available.
FOUR SQUARE
Nine inch square very thick, fluffy crust using the same delicious sauce and cheese as our round pizza. We brush the crust with garlic sauce and sprinkle parmesean cheese on the edges to give it a very unique taste. You can top your Four Square with up to four of our original toppings for one low price. Extra sauce and cheese is also available. Serves 1-2 adults.