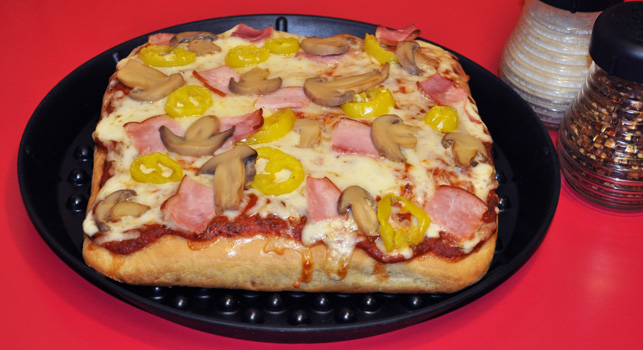 Shortly after the Pizza Haus opened in 1974, the Kellermans and the Yorns decided they wanted something distinctly German and, at the same time, distinctly unique on the menu.
Idea number 1:  Sauerkraut on pizza. That's right, sauerkraut on pizza. People never believe it until they taste it! Since then other local restaurants have copied the idea (along with several other Pizza Haus originals) but as always, the imitation is never as good as the original.
Idea number 2:  A different twist on the Reuben sandwich. Combining the first names of Mr. Yorn (Lowell) and Mr. Kellerman (Jack) the Lojac was born. Corned beef, turkey, pizza cheese, sauerkraut and mayonnaise on an eight inch rye bun. It quickly became one of the most popular sandwiches on the menu.
To celebrate the 40th anniversary of the Pizza Haus, we introduced a distinctive very thick, fluffy crust nine inch crust named the Four Square. You can top it with any four toppings of your choosing. You've never seen or tasted anything like it!
The Hausburger, Steak Hoagie, and Poor Boy also have legions of dedicated followers. We never tire of hearing stories of people who stop by to get their fix on their yearly trip through Batesville or their occasional visit to the area and they comment their favorites still taste the same as they remember.