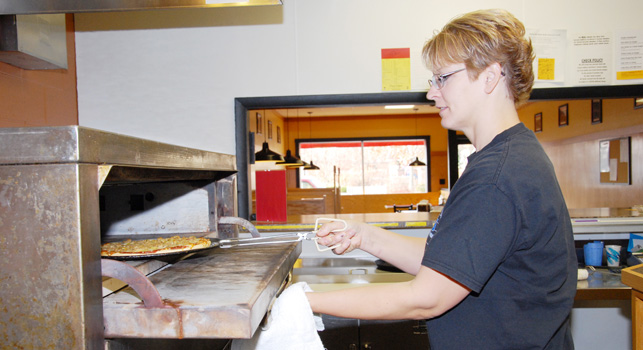 In 1962 Schmidt's Place opened on Walnut Street selling doughnuts and pizza.  Then, in 1970, when Schmidt Bakery moved to the new Batesville Shopping Village, the pizza portion of the business was sold to Jake McKittrick and Brent Gibson and operated under the name Jake's Pizzeria.
The business moved to our current location and into a brand new building. In earlier years, this location was home to Hellmich's Standard Oil gas station. Along with the pizza business, McKittrick and Gibson bought the pizza oven Schmidt's used for eight years. That same oven is still used today to bake every Pizza Haus pizza.
On February 22, 1974, Pizza Haus opened under the ownership of Lowell & Marge Yorn and Jack & Vicki Kellerman. The Pizza Haus name was chosen to emphasize the German heritage of Batesville.
In 1986 Lowell and Marge acquired the Kellerman portion of the business. After Mr. Yorn's death in 2003, Marge managed the restaurant along with her son, Kirk. With Marge's passing in 2013, Kirk became owner and, along with his wife, Ginny, they look forward to continuing the Pizza Haus tradition of good food at good prices.